| | | | | |
| --- | --- | --- | --- | --- |
| | | About Kateri Dupuis | | |
---
---
I am a Wisconsin native and currently a retired middle school teacher residing in Wauwatosa, WI. Coming from a family of seven, I am always busy with family as well as a myriad of friends from around the world.

Over the past years, I have followed my passion for genealogy and was a member of the French Canadian / Acadian Genealogists of Wisconsin for 25 years, acting at different times as president, vice-president and treasurer. I have traveled to Madison, WI and Salt Lake City, UT to do research. I have also visited the villages of my ancestors in Québec, the Maritime Provinces of Canada, and France.

Involvement with the FCGW organization brought me in contact with French Canadian and Acadian genealogists and relatives worldwide. With their help and 30 years of research, I was able to publish the book, Dupuis and Archambault Families' Genealogies book. Learn more about my book on the home page.

"If you are interested in reading more about my life, contact me for details on how to access my Memoire."

A travelogue of one of my trips to France in 2000 is available if you are interested.
Chez Dupuis
My residence in spring, summer, fall and winter.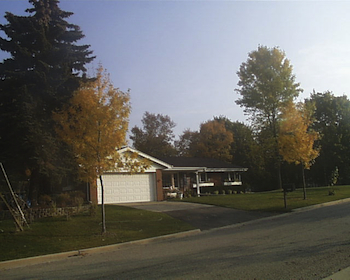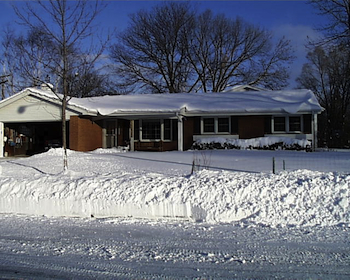 The Original Harley Babe!
Harley photos and Indian racing bike.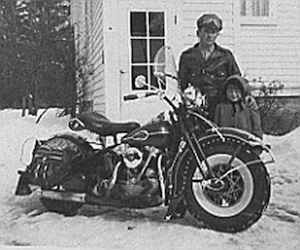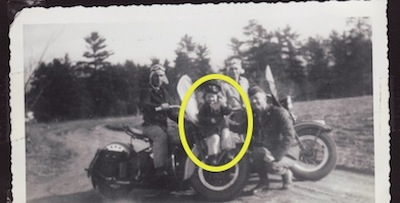 Above left: Edmund Dupuis Jr., Kateri (Teri) Dupuis, circa 1944
Above right: John "Bizz" Pesmark, Kateri (Teri) Dupuis, Snort & Adrian Dupuis - circa 1943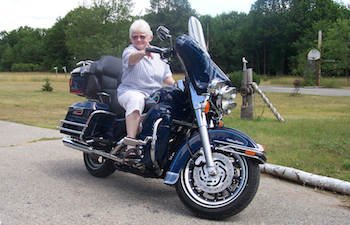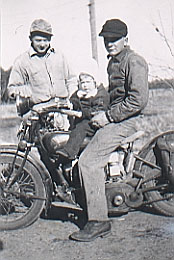 Above left: The Original Harley Babe - About 60 years later
Above right: Edmund Dupuis Jr., Kateri Dupuis, and Francis (Snort) Dupuis,
1942, with Snort's 1929 Indian Motorcycle.

---
---
© Copyright 1997 Kateri T. Dupuis - Website Author
dtp & design by TechLand Creations