Allow me to introduce myself. Born in 1941, I am now retired from my occupation in elementary education.
35 years was enough.
My hobbies include: computing on my Macintosh, travel, sports, photography, Genealogy of My Family.
At present, I am busy brushing up on all my hobbies and taking care of Chez Dupuis.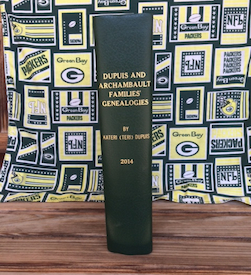 Announcing publication of book!
Dupuis and Archambault Families' Genealogies
As of 10 April 2014, I have published an 850 page book which is a compilation of data as well as my research notes on my ancestors.

The book covers the time from about 1500 to the present. About 4200 ancestors are mentioned, some in detail. Cost is $85 + $15 shipping. You may view the Table of Contents to familiarize yourself with the included book content.

Contact me for more information.
One of my favorite hobbies is traveling. My parents instilled a wunderlust in me. My brother Adrian served in WWII in Europe where he made many friends in France and Scotland. Those friends have visited here and I have visited there many times. A travelogue of one of my trips to France is available if you are interested.
Did you know that I was the original Harley Babe? I also rode an Indian racing bike.
The pictures don't lie!
In case you were wondering why my parents named me Kateri ---
my mother was reading about Kateri Tekawitha before I was born. Another interesting Kateri link.